Protests have intensified this week in Iran over the death of 22-year-old Mahsa Amini in police custody after she was arrested for allegedly wearing her headscarf too loosely. Amini died on Sept. 16 three days after her arrest in Tehran, and many Iranians are alleging that she was killed by law enforcement. Protestors have faced a brutal crackdown from the government who have deployed riot police, resulting in arrests, injuries and at least 17 deaths, according to the state media.
Iranian authorities claim that Amini died of heart failure, but her family and protestors across Iran accuse the government of covering up her murder. The international protests have expanded to express anger over a range of issues, not just restrictions women face over hijabs and more generally in Iran but also against the current regime. At one Iranian protest, a street full of Iranians chanted "death to the oppressor, be it the shah or the supreme leader!"
The death of Mahsa Amini
Mahsa Amini, 22, was arrested on Sept. 13 while visiting Tehran by the notorious morality police who enforce compulsory conservative Islamic behavior and dress. Hijabs are mandatory to wear in public for all women in Iran, regardless of religion or nationality. Amini was accused of violating the country's law on headscarves.
Iran's security forces said that upon her arrest, Amini was taken to a detention center where she received training on hijab rules, and it was there that she collapsed from a heart attack. She died on Sept. 16 in a Tehran hospital.
Amini's family disputes that account and said that police beat Amini in their patrol car on the way to the detention center and that witnesses saw it happen. Amini's father told an Iranian news outlet that he wasn't allowed to see her body in the hospital, but that he caught a glimpse of her foot and it was bruised. Reports indicate that her death was caused by a skull fracture from heavy blows to the head, according to the Associated Press.
The United Nations released a statement about the recent rise of the Iranian morality police attacking women over loose hijabs, and has called for an independent investigation into Amini's death.
"We strongly condemn the use of physical violence against women and the denial of fundamental human dignity when enforcing compulsory hijab policies ordained by State authorities," a panel of United Nations human rights experts said on Thursday. "We call on the Iranian authorities to hold an independent, impartial, and prompt investigation into Ms Amini's death, make the findings of the investigation public and hold all perpetrators accountable."
Yeganeh Mafaher, a 24-year-old activist born in Iran who lives in the U.S. now, tells TIME that although conservative dress and hijab laws were very strictly enforced after the revolution in 1979, these days, some Iranians don't take it so seriously. "Throughout the years, you can even see it in photos of Iran. Women started making the hijab looser and looser," she says.
Mafaher says that it's well known how easily bribed the morality police are. "There's been many times where people in my family have slipped them $100 and they've looked the other way," Mafaher says. That said, she adds, Amini was a Kurdish woman and police treatment varies according to religion, status, wealth, ethnicity and more. "It's very similar to America."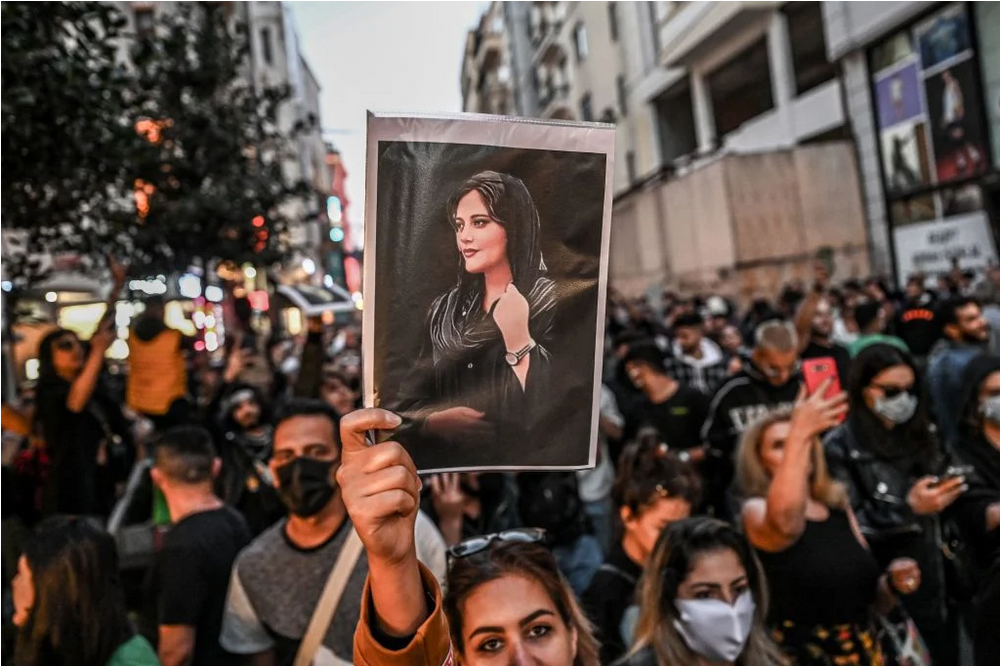 Protests intensify in Iran over Amini's death
Protests began after Amini's funeral on Sept. 17 in her home region, the Kurdistan province in the country's northwest, but quickly spread across Iran to as many as 80 cities and swelled in the capital, Tehran. Iranian women have taken to burning hijabs and cutting their hair in public and on social media as a means of standing in solidarity with Amini. Crowds gathered in Tehran's public squares and shocking videos have gone viral of police assaulting peaceful protestors. Protests have also spread internationally.
"What you see is people who are fed up with a regime," Mahmood Amiry-Moghaddam, Director of the NGO, Iran Human Rights, tells TIME. "Not only do they take away people's civil and political rights, but they also interfere in people's most private aspects of life, like what you wear."
Amiry-Moghaddam says it's hard to estimate how many Iranians are out demonstrating, but that it could be hundreds of thousands. He explains that people from all different backgrounds are gathering to demand "fundamental rights" and that he's "never seen so much anger before."
Activists have emphasized that the protests aren't just about women's rights or eradicating hijab laws, but rather about the harsh realities of living under an authoritarian regime. Mafaher still has many loved ones in Iran and says, "they've been affected by this their entire lives."
"What breaks a lot of Iranian people's hearts is that this is kind of only becoming about the feminism side of it, and the hijab, when in reality, all Iranian people are being affected by this," Mafaher adds. "The men are fighting for their sisters and their mothers and their daughters, and they don't want this for them either."
How the Iranian government has responded
The Iranian government has insisted that Amini was not beaten by police and that she died from a heart attack. Police released closed-circuit footage of Amini collapsing on the ground, but Amini's family said she had no history of heart trouble.
"Based on objective observations, interviews with witnesses, reports from relevant agencies, and other investigations, there was no beating involved,"Interior Minister Ahmad Vahidi said on the state broadcasting network, according to Iran Front Page.
Since the protesting began, riot police have met protestors with brutal force, armed with batons, tear gas, guns and metal pellets. Iran's state-run media said that at least 17 people have been killed in the past week, but human rights groups say the death toll is most likely much higher, at least 30, according to some sources. In the Kurdish province, at least 600 people have been arrested and 733 injured, according to Hengaw, a human rights organization.
Iran's tightly-regulated internet access was cut off on Wednesday, resulting in a near-total blackout of internet use across the country, Iranians have reported. Even before the blackout, the Islamic Revolutionary Guard Corps had strict censorship, blocking Iranians from using foreign media such as Facebook, Twitter and YouTube.
In 2019 during similarly wide-scale protests, the government shut down internet use for one week. Such shutdowns make it harder for people to organize protests, document abuse and share information. According to some estimates, during the 2019 shutdown, 1,500 civilians were killed.
Amid the anti-government outrage, a group of counter-protesters gathered in Tehran on Friday in support of the government, waving flags.
Iranian women's fight for their rights
Women in Iran have grown increasingly defiant of the country's modesty laws since 2014, when social media campaigns took off that advocated for women to have the choice to be veiled or not. Modesty enforcement also loosened under former President Hassan Rouhani, a relative moderate who denounced the morality police for being too aggressive, and in 2017 the head of the force said police would cease arresting women for modesty violations. However, after President Ebrahim Raisi, an ultraconservative cleric took office last year, the morality police clamped down again.
"In the last 20 years the women rights movement has been growing," Amiry-Moghaddam says. "First, they tried to make changes within the frameworks of this system. But you know, it's not compatible with the Islamic Republic, their ideology, what they stand for, is not compatible with equality between men and women."