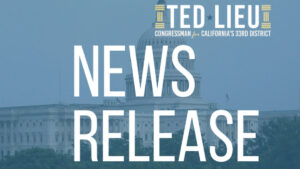 WASHINGTON – Congressman Ted W. Lieu (D-Los Angeles County) issued the following statement as peaceful protests for human rights continue in Iran. The protests began after the September 13 death of 22-year-old student Mahsa Amini following her arrest for not adhering to Iran's conservative dress code.
"I stand in solidarity with Iranians risking their lives to peacefully protest for human rights. Dozens of protestors have died this month and countless others have been imprisoned while standing up to Tehran's oppressive and violent campaign of abuse against women and girls. These atrocities are unacceptable. I call upon the Iranian government to halt these human rights violations and immediately release all political prisoners and unlawfully detained individuals. I honor the memories of Mahsa Amini and all those lost to the Iranian government's brutal repression while reaffirming my commitment to human rights around the world. I'm pleased to join my colleagues in taking Congressional action to support the peaceful protestors and hold Iran accountable for its actions." 
Congressman Lieu is proud to cosponsor H.R. 9075, the Support for Iranian Political Prisoners Act, which demands Iran end its campaign of human rights violations and immediately release all peaceful protestors, political prisoners, and prisoners of conscience. H.R. 9075 was introduced by Congressman Adam Schiff (D-CA) on September 29, 2022. Additionally, Congressman Lieu is a cosponsor of H. Con. Res. 110, introduced on September 29, 2022 by Congresswoman Claudia Tenney (R-NY). The resolution commends the bravery, courage, and resolve of the people of Iran who are demonstrating across the country against the Iranian regime's human rights abuses. Both pieces of legislation have been referred to the House Foreign Affairs Committee for further consideration.