By: Khosro Esfandiar Mehrfar (Courtesy Los Angeles Times)  – 

Every year around March 20th at Spring Equinox when day & night are of equal length (hence the Latin root of the word Equinox) & when Sun passes the celestial equator, people of Persian heritage around the  world celebrate the end of cold winter & the beginning of the warmer Spring which coincide with the re-birth of planet Earth & rejuvenation of mother Nature.
At that exact moment, Persian New Year (Nowruz; literally New Day) begins.  This time, its officially 1396, but historically it is the celebration of close to 5500 years of tradition as evidenced by discovery of a wine jar in western province of Iran in mid 90's by an archeological team from the University of Pennsylvania.
The New Year celebration has a deep root in Persian culture, history & heritage and has been going on for millenniums.  Age old traditions, from appreciation of bestowed blessings, to preparation of special foods, to giving gifts to younger ones & a spread of 7 items with name starting with letter "S" like "Sumac", are all part of Nowruz.  Each one of these 7 items symbolically represents a kind of Blessings.  Traditionally Families gather around this special Spread minutes before Nowruz & at the beginning of New Year wishing each other & Friends & the People of the World Health, Happiness, Harmony, Love & Peace.
After Iranian Diaspora, Nowruz is being celebrated in major cities of U.S., Canada & Europe.  In the last few years, U.S. presidents have delivered Nowruz speeches right at the start of the Persian New Year. Following picture shows the spread at the White House. You can see Sumac right at the center of the White House spread, and also Apple (Sib in Persian).  March 21st, was also proclaimed as "International Nowruz Day" by the United Nations General Assembly, in its resolution A/RES/64/253 of 2010.  And as the UN secretary general said "Nowruz reminds us of the values and aspirations we all share for peace through tolerance, respect and mutual understanding."
Nowruz is also believed to have deep roots in Zoroastrian Faith, the religion of ancient Iran but is a purely Secular event where People of Persian heritage with diverse ethnic & religious background celebrate each year.  In addition to Iran, about 15 countries, historically either under or in contact with Persian culture, celebrate Nowruz to varying degree including some of the ex-Soviet republics such as Tajikistan.
Several cities across U.S. have Nowruz proclamations. Two largest celebrations are in New York & California.  For the last 11 years, Nowruz parades are conducted in Manhattan with thousands attending.  In Southern California, several Nowruz celebrations take place as well.  Nowruz in Rose Garden in Irvine & in Westwood are the largest.  These events have been planned & managed well in advance, by diverse group of Iranians.
The Orange County Nowruz 2017 is organized by IAC (Iranian American Community) Group representing 14 different Persian organizations in OC will be on Sunday March 26 from 1:00pm to 6:00pm at:
The Rose Garden at Bill Barber Community Park
(Next to Irvine City Hall)
4 Civic Center Drive Irvine
We hope you can join us.
Joy, Love, Peace, Happiness and Harmony to all of You in Persian New Year. 
Khosro E. Mehrfar
Photo:
Courtesy of the White House & Wikipedia
Iranian American Community Group
Nowruz at the White House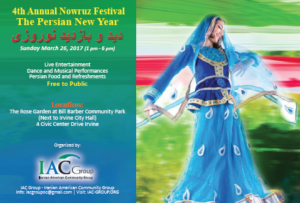 Nowruz 2017 – Comping up March 26